Finally Some Proof Of Wilkerson's Role
June 27th, 2009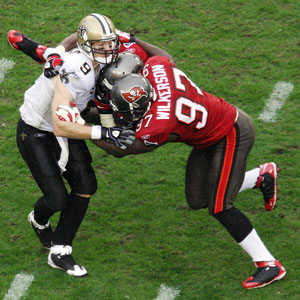 So it seems Raheem The Dream did, in fact, name Jimmy Wilkerson the starting defensive end across from Gaines Adams.
Journeyman Wilkerson being named a starter was reported previously by the Bucs bedfellows with the colorful magazine and Anwar Richardson of the Tampa Tribune. However, neither of their stories quoted anyone of authority to back up the claim.
Surely, Joe thought, Raheem The Dream wouldn't consider naming a starter in June when he claimed he wanted a violent, competitive environment. What would be the point?
Now, finally, there is hard evidence Wilkerson has been told he's starting. Pat "Vacation Man" Yasinskas, of BSPN.com, quotes a great source, Wilkerson himself.
"It's up to me now to keep that starting job," Wilkerson said. "Someone is going to have to outwork me and outperform me to get that starting job away from me."
Vacation Man writes a nice little feature about Wilkerson. And Joe is surely rooting for him.
But naming Wilkerson the starter now seems pointless, unless he's the kind of dude who needs extra hugs and love and appreciation to stay motivated.
But the whole thing seems to run contrary to The Dream's desire to have his young team fighting for jobs at every position. A contradiction in place for Sabby Piscitelli, as well.