Casey Weldon: Hero of the People
June 2nd, 2009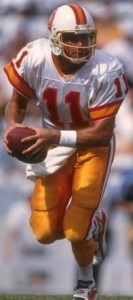 When Trent Dilfer, one of the more horrid quarterbacks to ever step behind center, played for the Bucs, hundreds of thousands of fans (if not select members of the Fourth Estate) likely wanted to ring his neck for his never-ending bonehead plays, constant  interceptions and inability to lead a team from behind.
Former Bucs quarterback Casey Weldon wasn't a whole lot better. But he pulled off what many Bucs fans secretly hoped to accomplish.
In a recent chat on BSPN.com, Vacation Man offered a gem that Weldon is, in fact, the people's hero.
Carlos Panama:Pat, I don't get why there's no love for the Bucs O-LINE. Its by far one of the best and youngest groups in the league. PS: I have no idea of who casey weldon is.

Vacation Man:It is a very good o-line. Strongest area of the team. Casey Weldon was a backup QB for Bucs in the mid-90s. Once beat up Dilfer on a golf course — that's his claim to fame.
Weldon may just get his name etched in the future ring of fame at the CITS for that stunt. If nothing else, Weldon is now a cult hero.
Look, Joe has absolutely nothing against Dilfer personally. Seems like a pleasant fellow and a nice guy. But he was brutal beyond words as a quarterback.
Joe rarely watches BSPN. It's an insult to his intelligence. And with the NFL Network, what's the purpose (aside from live games)? So on the off chance Joe does catch Dilfer while surfing across BSPN, the only thing Joe wants to hear out of his mouth is the proper form for throwing interceptions.