The Dream's Fab Five
May 28th, 2009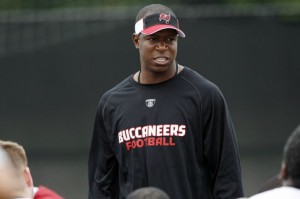 Last week, Raheem The Dream raved about four un-named wide receivers who he said were playing great and working hard during offseason practices.
Now The Dream has provided names and added a fifth impressive receiver to the mix, per Buccaneers.com, calling out five guys not named Antonio Bryant or Michael Clayton.
"Actually, somebody joined that bunch this week, and that's Cortez Hankton," said Morris. "I wasn't talking about the obvious guys, Antonio Bryant and Michael Clayton. I was actually talking about how well Kelly Campbell is playing, Brian Clark, Dexter Jackson, Sammy Stroughter and also Hankton. Those guys are really battling for that third kind of spot."
Can any one of these guys replace Ike Hilliard's effectiveness on third down?