"Panty Dropper"
May 8th, 2009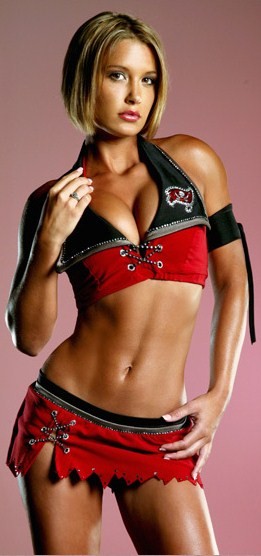 Joe meant to post this earlier in the week, but decided to hold off on this until Friday. Why? Because it's Friday!
Joe's good friend, the czar of Tampa Bay electronic sports journalism J.P. Peterson of WQYK-AM, recently interviewed former Bucs great Simeon Rice. Among the things Rice talked about was, of course, playing defensive end.
Rice doesn't seem to be much of a fan of Gaines Adams. When asked if Rice was better than Adams, here's Rice's response:
"What type of question is that? I'm not even going to answer that because I have 120-plus sacks. How different do I look? Let's talk about this: I'm not even going to answer questions like that. What I'm going to do is propose a question to you – my play never fell off OK? I was never deteriorating. I got hurt. It's different. So you going to ask a guy that got hurt, you going to kick me when I'm down?"
Rice also talked about his sister Yashi Rice, a budding music star. When asked to describe her music, Rice coined what is Joe's favorite new catchphrase:
"Panty Dropper."
When Joe heard that line for some strange reason, Rachel Watson sprang to mind.