Freeman's Success "50/50 Crap Shoot"
May 27th, 2009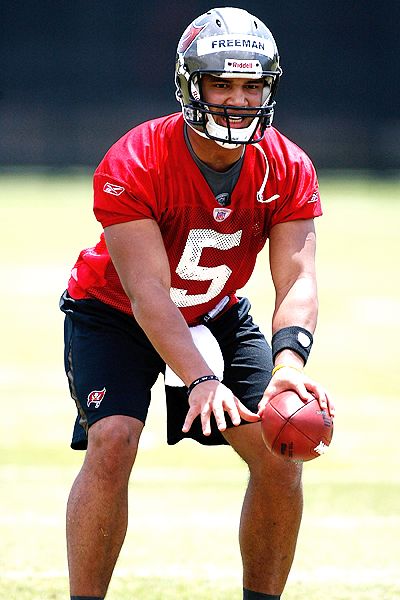 Bucs quarterback bust-in-waiting Josh Freeman has a 50 percent chance of succeeding in the NFL. That's the theory of Brian Billick.
The former Ravens head coach and alleged quarterback guru made an appearance on Sirius NFL Radio Wednesday morning talking to "The Opening Drive" co-hosts Bob Papa and Randy Cross.
Among the many topics discussed was, naturally, quarterbacks. Cross asked Billick how teams can "ease the transition" of rookie quarterbacks and specifically invoked Freeman's name.
Billick, in so many words, suggested (some) Bucs fans should temper their gaudy expectations of Freeman. Billick noted that the rare success of last year's rookie quarterbacks Matt Ryan and Joe Flacco (whose stats weren't that great) may have done more harm than good for future rookie quarterbacks.
"With the success of Ryan and Flacco, there's more pressure and expectations," Billick said. "Those expectations have just taken off thanks to those guys last year. A first round draft choice at quarterback at best is a 50/50 crap shoot. [Ryan and Flacco's success has] put too much pressure on [rookie quarterbacks]."
Billick went on to say that, speaking with Ryan in the offseason, Ryan told Billick that he didn't think the game will ever slow down for him as some quarterbacks suggest happens after time. Ryan, said Billick, compared learning the NFL and reading defenses to translating a language.
Mind you, Ryan played in an NFL-style offense at Boston College under current Bucs offensive coordinator Jeff Jagodzinski, not a spread-option which, compared to the NFL, is like comparing Latin to German.