Brooks, Chucky And The Harlem Globetrotters
May 13th, 2009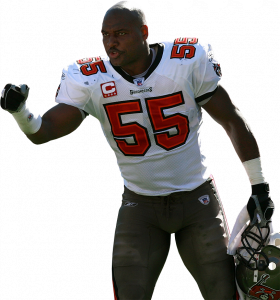 Unless he's working for the NFL Network, Chucky will be hiding in his bunker at the Ice Palace where he can salivate over Tim Tebow without anyone seeing him drool.
As each day passes, it appears Derrick Brooks may not be working this fall. Or other former Bucs like Warrick Dunn, Ike Hilliard, Kevin Carter, Ryan Nece, Joe Jurevicius and Martin Gramatica.
But Tim Kirwan of NFL.com has an idea to get them a job.
With NFL commissioner Roger Goodell floating the asinine idea of playing a Super Bowl in London, Kirwan suggests rather than do something as sacrilegious as that, the NFL should take a page from the Harlem Globetrotters and have a barnstorming tour overseas.
Kirwan wants to gather enough old veterans and solid coaches to make up two teams. The players would play each other at barnstorming tour stops throughout the world to "grow" the game of football.
NFL Europe didn't work because it was minor-league talent in the spring. Here's a concept that could excite fans worldwide. The league should hire a real smart guy like Bruce Allen, the former GM of the Tampa Bay Buccaneers, to run the world tour and recruit the talent and coaches. The tour games would look similar to the Pro Bowl, and the advanced marketing would be easy with former legends of the game.
The players and coaches would be on the NFL's payroll. But it would give the players a chance to show not only the world what real football is about, but other NFL organizations that they still have game.
Joe likes this concept because, more football is always a good thing.