Make It Six Quarterbacks
April 28th, 2009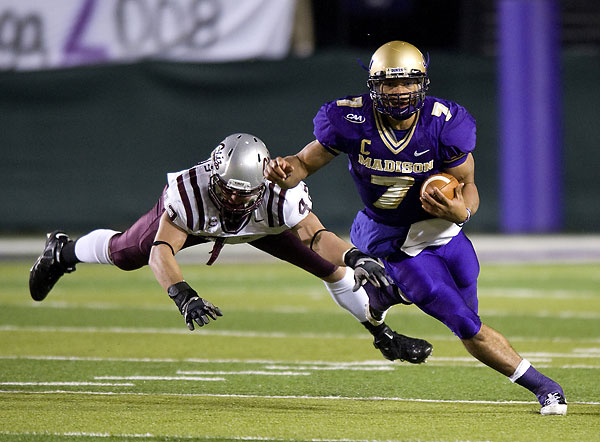 Chucky must be drooling. Another arm is coming to Tampa. 
The Bucs have invited James Madison (Division 1-A) quarterback Rodney Landers to this week's rookie mini-camp, reports the Daily News Record in Harrisonburg, Virginia.
Landers has been invited to play quarterback at the Tampa Bay Buccaneers' rookie mini-camp this weekend, his agent said Monday night. Landers plans to leave for Tampa on Thursday and practice with the Bucs on Friday, Saturday and Sunday.

"That's the plan at the moment," agent David Sullivan said by phone from his Norfolk home. "Right now, Rodney does not have a contract. He has an offer from Tampa to come down and compete at the quarterback spot." 
Landers put up great numbers at James Madison, with 1700+ yards rushing, and throwing for 21 touchdowns versus four interceptions. He's largely viewed as a phenomenal athlete that could be running back or a major project at QB.
Yes, of course, Joe knows this guy primarily is coming to work alongside Josh Freeman and have a glorified Pro Day weekend. But you never know, and at least fans can be sure Landers is not another QB "smokescreen."