Dreaming of Anquan Boldin With Bucs
April 19th, 2009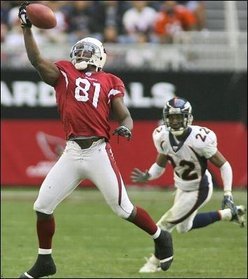 In his recent mailbag, Vacation Man of BSPN fields a question from a Bucs fan about the Bucs maybe making a play for Arizona wideout Anquan Boldin.
Brett in Tallahassee writes: Hey Pat! With the 2009 Tampa Bay team beginning to sort coalesce, do you think Anquan Boldin would be a good fit for a deep-threat WR? Thanks, love the column. All the best, Brett

Vacation Man: There's no doubt Anquan Boldin will help any team he plays for and I like the idea of him with the Bucs. However, I think it would be very difficult for the Bucs to pull off a deal like that. After trading their second-round pick for Kellen Winslow, they don't have a lot of ammunition for a trade and I'd hate to see them give up their first-round pick because they have some big needs on defense that really haven't been addressed yet.
While Joe would absolutely love to see Boldin in pewter and red, it won't happen. Thanks to the Bucs throwing away a second round pick on Sgt. Winslow, the Bucs have little ammunition to pull off such a trade.
Joe would much rather have seen the Bucs trade a third round pick to Arizona for Matt Leinart. Don't expect that to happen either.