Told You So
February 26th, 2009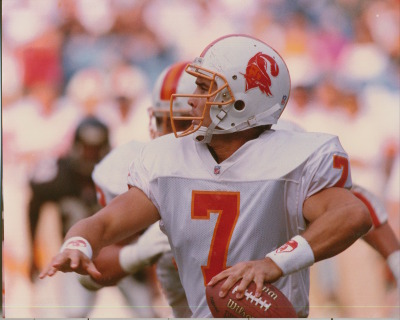 Former Bucs quarterback Jeff Carlson trains QBs of all ages with his company, America's Best Quarterback. You can hear him as host of The Game on ESPN 1040AM, Sundays at 11 a.m. He's a regular contributor to JoeBucsFan.com.
By Jeff Carlson
JoeBucsFan.com analyst
Looks like the Bucs' new management is filled with avid readers of JoeBucsFan.com. And they take my opinions pretty seriously.
It's no secret that I have been a big fan of giving the best athlete on the team a chance at quarterback and they brought back Luke McCown as a top priority.
In a posting from January 16 following Jon Gruden's firing I wrote about the following about the talent level on the Bucs:
Earnest Graham is the only running back with potential. Antonio Bryant is the only quality receiver on the team – and he's a free agent. The defensive front is questionable. Barrett Ruud is a stud, but Cato June is a question and Derrick Brooks should be a reserve. Ronde Barber is going to the Pro Bowl, but should be a situational nickel-back. Most of the role players don't have upside (future starter) potential.
Those are opinions based on performance on the field, not memories of the good 'ol days of yesteryear.
With that basis in mind, is today's news of the Bucs releasing Derrick Brooks, Cato June, Warrick Dunn, Ike Hilliard and Joey Galloway really that surprising?
Mark Dominik made it pretty clear they didn't want to see Brooks standing on the sideline in a ball cap, but for all the fans that want to get caught up in his history of greatness (and that is what it is, history) and his sure-fire Hall of Fame future, Brooks isn't playing at that level anymore and he isn't going to be running down on kick-offs or punt coverage.
Raheem Morris could not continue to show the individual favoritism to the likes of Joey Galloway's prima donna practice schedule, if he wants to take this team back to an elite level.
Nothing tears apart a football team more than preferential treatment, no matter how good you are.
The good news is the GM and the coach aren't making emotional fan-like decisions, but good solid football decisions. Go back to the earlier quote above from January and see if Ronde Barber's role doesn't get redefined before the season, as well.
I don't know that we have seen the last of this group of ex-Bucs, but just keep reading my posts and you'll be able to prepare yourself for the next move by the Bucs' brass.