Ring Of Dishonor
February 7th, 2009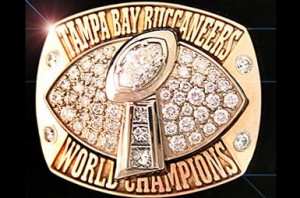 Joe is way too tired to start speculating what member of the Bucs championship team sold his Super Bowl ring at a Tampa pawn shop in 2007, as noted today in a slightly bizarre story in the Tampa Tribune.
…the former Bucs player had fallen on hard times about a year and a half ago after he was released by the team, Cacciatore said. The player brought the ring into the shop to get a quick loan without the hassle of going through a bank.
At first, Cacciatore said he thought the ring was a fake or stolen. He had an undercover detective come in to witness the deal. But it all turned out to be legit.
Cacciatore kept the ring for the allotted 60 days and even longer. The ex-Buc was trying to negotiate a contract with another team and ended up getting $6,000 from the pawnshop for the ring that cost about $17,000 to make. Then, he moved out of Tampa and never returned to claim the championship bauble, he said.
Joe feels bad the guy didn't have the brains to put the thing up on Ebay or sell it directly to a collector for twice the $6,000 he got.
Any guesses on the ex-Bucs player?