Favre Speculation Alive And Well
February 5th, 2009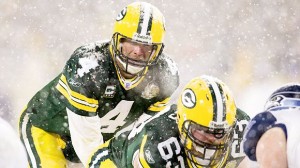 When you're the NFL team with a dusty pile of salary cap money, no legitimate quarterback and at least reasonably close to being a playoff team, that qualifies you to make the Brett Favre rumor list.
Add to that you courted the guy last year and your new offensive coordinator worked with him previously, you jump to the top of the list.
With each passing day, Favre is less likely to stay with the New York Jets. After the season, he said he'd wait a month to make his decision on retirement. We're still waiting.
The Bucs haven't made even a rumble about re-signing Jeff Garcia or Luke McCown. And the love for Favre around the Meadowlands is wearing thing. Columnists are asking him to leave town.
If the Bucs plan to draft a QB, Joe has to wonder whether Favre for a year makes some sense. He's still better than most, and the Bucs have a brutal schedule in 2009.
There are those who believe the Glazers are hurting for cash. Favre guarantees a windfall.
And The Dream is the coach who said the Bucs will "Stay the Course." That course, like it or not, has largely been to run with a veteran quarterback.