Raheem Morris En Route To Denver
January 1st, 2009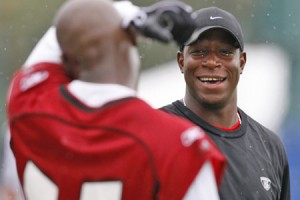 It seems that Monte Kiffin's successor at defensive coordinator, 32-year-old Raheem Morris, will begin his Rooney Rule tour in Denver on Monday.
Rick Stroud, of the St. Petersburg Times broke the story today reporting the Broncos have asked permission to interview Morris for their head coaching job and he will meet with Denver owner Pat Bowlen on Monday. Longtime Broncos coach and general manager Mike Shanahan was fired this week. (Kudos to the Times, as the Denver newspapers have yet to report Morris will interview).
On Wednesday, The Rocky Mountain News reported Morris was among young coaches to watch, when it comes to longshot head coaching candidates.
Two NFL general managers who were asked Tuesday to name an up-and-coming defensive assistant who might be ready for a move up mentioned Tampa Bay Buccaneers defensive backs coach Raheem Morris as someone that both had "on the radar."
Morris is a respected young coach but has never held a coordinator position in the NFL. How he could be considered a legitimate head coaching candidate – let alone for a storied franchise like Denver – is hard to understand.
Even boy genius Jon Gruden, who was 34 when he was named Oakland Raiders coach, had been an offensive coordinator with the Eagles before landing his first head coaching job.
Joe believes Morris is a Rooney Rule candidate for Denver. The 5-year-old Rooney Rule requires NFL teams to interview minority candidates for a head coaching vacancy, with a few exceptions. Morris is African-American. Morris is a fabulous young coaching talent who, right now, is not qualified to be a head coach in the NFL.
Joe hates all of the race-based, equal opportunity hiring processes across the United States. It would be nice to one day live in a world in which people were judged solely by what they can offer.