Morris Vows To "Stay The Course"
January 17th, 2009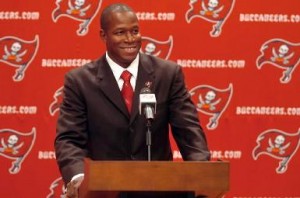 Joe knows it was just one line in a say-nothing, no-substance Saturday news conference to introduce Raheem Morris. But after a few hours to reflect, Joe can't get it out of his head.
Asked about his plans for the direction of the team, Morris said he will "Stay The Course."
Now Bucs fans know that the 2008 "course" wound its way into a crap-filled ditch where the Bucs died a slow death, losing four straight to miss the playoffs. 
Sure, Morris wanted to send a message to his current players that he believes in them. That he believes the 2008 team was more the 9-3 squad that entered December, versus the 0-4 December team that brought disgrace to the franchise. But "Stay The Course" was just the wrong answer.
Morris could have laid out a rough idea of what a Raheem Morris team looks like for the media and fans. After all, there never has been a Raheem Morris team – ever. He could have made the effort to look like a coach who was more substance than winning smile.
Joe likes Morris. And he looks forward to him showing his cards, showing what made him a strong candidate for the Denver job after interviewing there. Hell, just show anything we can sink our teeth into.
Bucs fans are hungry for hope. And Morris didn't offer even a mouthful in his debut.