Is Tiger Still A Bucs Fan?
January 18th, 2009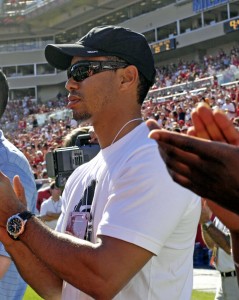 So there was Tiger Woods on the Bucs sidelines against the Raiders during the culmination of the 2008 collape.
He was around throughout the season, starting in training camp, cheering on the Bucs as a guest of his good buddy Jon Gruden. …If Woods' finishing prowess had only rubbed off.
So given Gruden's exit, is Woods still a Bucs fan? Frankly, Joe doesn't care. And, along with Joey Galloway, Joe didn't get how Chucky expected a golfer to inspire a team of 50-plus football players, most of whom don't play golf.
Regardless, it would be nice to see Woods prove to be a real Bucs fan, not just a fan of Chucky.