Former Bucs LB Moss To Interview With Raiders
January 12th, 2009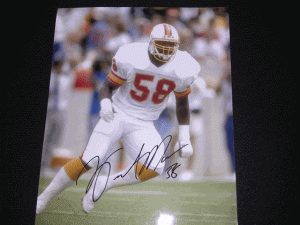 Joe always likes to tip his cap to the "old-timer" Bucs fans, those who have been loving the team since Day 1, or at least since the early '90s, before the Glazers ushered in the new era.
With that in mind, former Bucs starting LB Winston Moss, who played in Tampa alongside Eugene Marve (Robert Marve's dad) in 1988, 1989 and 1990, is set to interview for the Raiders head coaching vacancy soon, according to various reports.
Moss, 43, has been a Packers coach since 2006, serving as assistant head coach this season.
He interviewed for the Rams' vacancy recently, but was not considered a serious candidate as he was unprepared during the interview, reported the Milwaukee Journal Sentinel citing an unnamed source.