1996: Bucs Draft Rewind And Grades
January 21st, 2009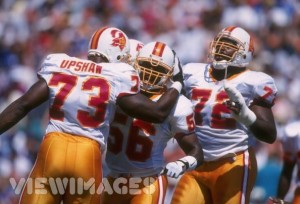 You want to talk NFL draft and what the Bucs have done, will do and should do in the draft? Then there's one guy in the Tampa Bay area you want to call: Justin Pawlowski, host of The Blitz on 620 AM, WDAE, The Sports Animal.
No, Joe is not about to give out Pawlowski's cell phone number, but you can check out Pawlowski's community service project for Bucs fans who can't get enough action in the offseason. He's begun reviewing and grading every Bucs draft in the Glazer era.
This week it's 1996.
Even with the Bucs drafting Mike Alstott and Donnie Abraham, the Bucs still failed in this draft.  In the end, missing terribly on the two 1st round picks, and missing on the latter round picks hurt badly. Hindsight is always 20/20, but with the offensive woes Tony Dungy went through, there were many instances this year where he could have given his offense a jump start from the beginning.  Instead he went with mostly defensive players, and it hurt the Bucs down the road …
If you are currently eating, Joe apologizes for resurrecting painful memories of Regan Upshaw and Marcus Jones. Let's hope the Bucs grab a more productive D-Lineman in 2009.
Pawlowski's Draft Rewind breakdowns will continue weekly.