Playoff Picture Sharpens
December 9th, 2008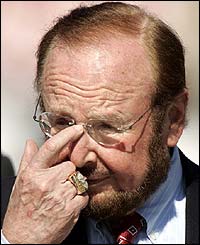 Joe likes math, but not usually at 1 a.m. on a Tuesday. However, when playoff calculations need to be tabulated, what could be more important? 
Joe has busted out the NFL playoff tiebreakers manual to give you the latest on the Bucs playoff chances.
The Bucs will clinch a Wild Card berth Sunday, if Tampa Bay wins in Atlanta, and Washington and Philadelphia lose. 
But Philly and the Skins play the Browns and Bengals, respectively, so don't expect the Bucs to clinch with a win in Atlanta. But that Wild Card berth for the Bucs likely would come the following week when Philly and Washington play each other, again assuming the Bucs beat Atlanta.
If the Bucs lose to Atlanta, Tampa Bay would still be in the driver's seat for the final Wild Card in the NFC.
The Bucs would fall to 9-5 with home games remaining against lowly San Diego and Oakland. If the Bucs lost to Atlanta and won those final games to finish 11-5, the Cowboys would have to win out against the Giants, Baltimore and Philadelphia  – very unlikely – to tie the Bucs at 11-5 and win the Wild Card spot on a tiebreaker edge. Also, Atlanta would have to win out against Minnesota and St. Louis to tie the Bucs at 11-5. A three-way tie with the Bucs, Atlanta and Dallas is what the Bucs want to avoid.
If the Bucs, Atlanta and Carolina tie at 11-5 atop the NFC South, the tiebreaker likely would come down to "strength of victory" as the teams likely would have the same conference records and same head-to-head records. In that scenario, the Bucs would probably need to really thump Oakland or Sand Diego to lock up the NFC South title.
Now that your head is ready to explode, you can forget all this information and cheer for the Bucs on Sunday. Right now, Joe estimates Tampa Bay will make the playoffs easily if they just beat San Diego and Oakland. An 11-5 record always gets it done, and this year should be no exception.