Monte Kiffin Featured
December 18th, 2008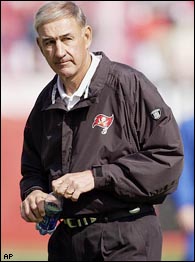 Scott Smith of Buccaneers Insider has a video feature on the soon-to-be departed Bucs defensive coordinator Monte Kiffin.
Interestingly, the piece was taped last Wednesday. In the video, Kiffin discusses his decision to leave the Bucs and join his son Lane Kiffin, the new head coach at the University of Tennessee. Not that this was any sort of state secret. Hell, Joe first broke the news before any MSM outlet in the Tampa Bay area that Kiffin may leave to coach in the college ranks with his son.
But Joe finds this a bit interesting that none of the credentialed, well-connected and grizzled journalists covering the Bucs could get Kiffin on the record about leaving Tampa Bay until he was cornered after the loss to the Dixie Chicks, some four days after this piece was taped.