Gameday Tampa Bay Week 16
December 21st, 2008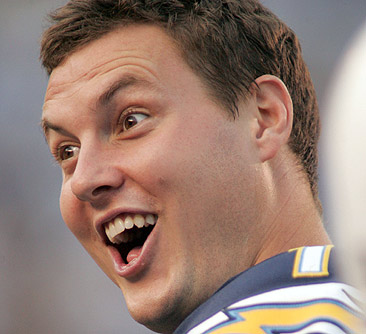 Chargers (6-8) at Bucs (9-5)
Week 16
Kickoff: 1 p.m.
TV: WTSP Channel 10, DirecTV 707.
Radio: Buccaneers Radio Network (in Tampa WFUS-FM, 103.5 and WDAE-AM, 620); Sirius Channel 126.
Weather: Per AccuWeather.com, the game will be played in near-perfect conditions. Temperature at kickoff is forecast for 78 under partly cloudy skies. The only potential issue is that wind speeds are expected to pick up as the game progresses with gusts maybe reaching 20 mph. Temperatures will slightly dip into the lower 70s by the end of the game.
Odds: Per Bodog.com, Bucs -4.
Outlook: This game will be interesting from several angles. First, who will play quarterback?
Chucky has said Jeff Garcia is "expected to start," but we know how that goes. Chucky also said that Luke McCown would be the backup. Rather than speculate, Joe will just wait and see. But if Son of Bob starts, God help us all.
Don't hold your breath on Garcia starting.
The Bucs rush defense has been giving up way too many yards but most of that was because tackles Jovan Haye and Chris Hovack were dinged up. They seem to be healthy now so that should help a great deal.
Even with LaDainian Tomlinson the Chargers haven't been running the ball well. Instead, they are going more to the passing attack which just might play right into the Bucs hands as the Bucs pass defense has been lights out. Of course, the Bucs will miss Jermaine Phillips who is out for the year. Joe does like his backup, Sabby Piscitelli, a great deal. But Piscitelli is prone to making some bonehead mental errors.
Another advantage the Bucs have is that Norv Turner is the Chargers coach. How this guy continues to get head coaching gigs in the NFL Joe cannot fathom. How many worthless coaches are still collecting paychecks thanks to the coattails of Jimmy Johnson?
In short, Garcia needs to suck it up. If he plays, the Bucs should be fine on offense. With Haye and Hovan somewhat healthy, the rush defense should be improved. Unless Son of Bob starts, Joe can't see the Bucs losing unless they completely melt down.
With a win, by the end of the day, the Bucs may be in the playoffs.
Also, Joe has press credentials for the game so check back later in the day for some unique insight from behind the scenes as well as some player interviews.
On an unrelated matter, Joe is hoping somehow WTSP can work in the talents of Heather Van Nest and Tammie Fields on its pregame show.