Power Rankings Week 9
November 8th, 2008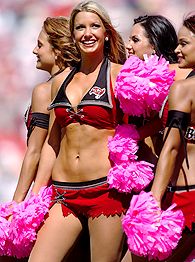 Joe hasn't forgotten you Bucs fans. The power rankings are in and Joe has them.
We lead off with Jason McIntyre, the creator of TheBigLead.com. He has the Bucs at No. 10.
Three losses by 11 points. Just sayin' …
Up next is Vic Carucci of NFL.com. He lists the Bucs at No. 7.
Ultimately, they did what they were supposed to do vs. the Chiefs, giving them a chance to have a relaxing bye — at least as relaxing as a Jon Gruden team's bye can be.
Pete Prisco of CBSSports.com suggests the Bucs are slightly better. He has them at No. 6.
That was an impressive comeback against Kansas City. They head to their bye at 6-3 and have to feel pretty good about it.
Vacation Man of BSPN.com apparently surmised through the highlights that the Bucs are No. 7 as well.
Avoided disaster in Kansas City. They get a bye week to try to find their offense.
And lastly, Joe brings you the notorious Dr. Z, Paul Zimmerman of SI.com. He too ranks the Bucs at No. 6.
The comeback from 24-3 down, to Kansas City, was the greatest in their history, they say. Short history, huh? Still, Gruden almost blew it when he went for a two-pointer early in the fourth quarter — too early — and had to hole the pressurized deuce putt later on to stay in it.