Playoffs Realities Emerge
November 3rd, 2008
November is when Joe starts to get serious about looking at the Bucs schedule, the NFC standings and schedules of teams in contention.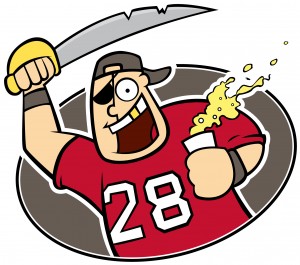 Entering Week 10, two realities have emerged.
The #1 and #2 playoff seeds in the NFC should be the winners of the NFC East and the NFC South divisions. They would get the coveted first round byes and second round home games.
In the NFC West, Arizona (5-3) has little chance to grab the No. 2 slot. They still have two games against Seattle, plus home games against the 49ers, Vikings and Rams.  But their remaining three are against the Giants at home, and on the road in New England and Philly. Finishing 10-6 won't get a playoff bye. …Leading the NFC North, the Bears (5-3) also have a tough schedule, and they do not have the tiebreaker edge against NFC South leaders Carolina (6-2) and the Bucs (6-3).
The Bucs must beat Carolina on the road on Monday night Dec. 8
Sorry Bucs fans. Carolina (6-2) comes out of their bye week on Sunday to face hapless Oakland at home. Then they head to winless Detroit. That will put the Panthers at (8-2). Let's say Carolina splits its next two road games, at Green Bay and at Atlanta. That means Carolina enters the Bucs game on Dec. 8 at (9-3). The best the Bucs can enter that game is (9-3), only after consecutive wins at home against Minnesota, at Detroit and then home against New Orleans. If the Bucs lose in Carolina, they will be one game back of Carolina with three to play. Then they'll have to head to Atlanta on short rest for a must-win road game. If the Bucs win that game, they would have the tiebreaker edge against Carolina with comparable schedules for the final three games. …Circle that Monday night game on your schedule, Bucs fans. It's the season.