Thank You Justin!
October 21st, 2008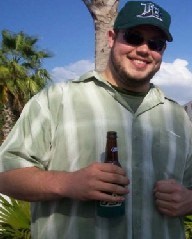 Sunday, Joe was an honored guest of Justin Pawlowski, host of "The Blitz" radio show heard on WDAE 620-AM. This edition of "The Blitz" was a pregame version from the south plaza of the CITS heard prior to the Bucs game with Seattle.
Among the many Bucs subjects we discussed was the JoeBucsFan.com exclusive broke last week that Clemson wanted to hire former Oakland Raiders head coach Lane Kiffin so long as he brings his father, Bucs defensive coach Monte Kiffin, as the school's defensive coordinator.
Joe encourages readers to check out Justin's show, normally heard Saturdays from noon-3 p.m. The show can also be heard via live steaming on the station's website.
Thanks again Justin!