Quick First Half Thoughts
September 7th, 2008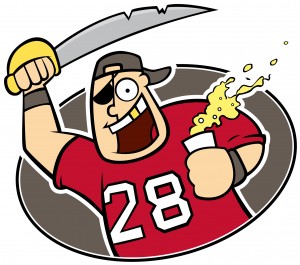 Since Joe is at home watching the game, he has some quick first half thoughts:
1. Bucs pass defense looks really sharp. Sure, can't be perfect. But after that early Saints score they have played lockdown defense.
2. Running game is working OK for the Bucs. Can't understand why they aren't running more.
3. Although Garcia is not particularly sharp (what a shock!) that was a sweet pass to Antonio Bryant over the middle that set up the go-ahead field goal at the end of the first half.
4. Speaking of field goals, nice to see Matt Bryant snap out of his slump. Or is he in a slump anymore?
5. Bucs got absolutely robbed earlier in the second quarter when Reggie Bush got blown up (or as Emmitt Smith would say, "Blowed up.") by Ronde Barber. If Bush didn't have control of that ball, then his girlfriend doesn't have an oversized caboose.
No, Joe hasn't had any beer yet today.
Yet!