Dexter Jackson Playing Scared
September 27th, 2008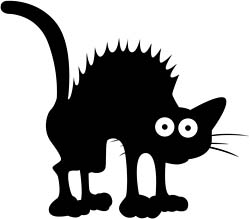 Now it's official. Dexter Jackson is a Grade A wimp.
The Bucs second-round pick in 2008, who has slipped and tripped all over the field in his limited action as a kick and punt returner, tells the Tampa Tribune he's worried about getting tackled.
And his teammates agree.
How pathetic is that?
"You can't be scared," Clayton said. "You've got to just to hit it up in there through the hole and get all you can get. Dexter is a young guy. He's going to learn how to do it."
Clayton, who likely will carry the load in the kick return game against the Packers, also told the Tribune that Jackson took a big hit on opening day against New Orleans. implying that the hit put fear in Jackson's head.
Joe says it's time to cut your losses, Bucs, and send Jackson packing. If a guy's afraid to be tackled, he's got no future in the NFL.