July 21st, 2017
Podcast (todd-wright-fantasy-football-podcast): Play in new window | Download | Embed
Subscribe: iTunes | Android | RSS
Todd looks at the top of the running backs board and sees no reason to worry about Le'Veon Bell missing games again this season. At least for now.  … And when it comes to running backs and fantasy football, this time of year is as good as any to start searching for "handcuffs." Todd looks at one popular name who may not have the best value and instead offers another team where being No. 2 on that RB depth chart will definitely merit being a late-round fantasy draft pick.
ON MONDAY The Todd Wright Fantasy Football Podcast expands to twice weekly! …Enjoy it here and at iTunes.
Click above to listen or to download.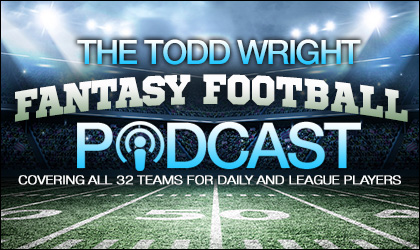 Teed Up By Lansbrook Golf Club & Florida Golf Trail