About Joe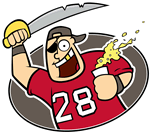 Joe isn't your typical fan blogger. In the real world, the two guys who write for Joe have 40+ years of professional sportswriting experience combined. They've won writing and reporting awards from the Associated Press Sports Editors, the Florida Press Club and the Florida Press Association, among others.
So big deal; Joe can write. What's important is Joe's a crazed Buccaneers fan who lives, breathes and craps football. Joe also spends time in the Bucs' locker room, has fantastic sources, and knows more about the team than most.
JoeBucsFan.com delivers daily commentary that will make you laugh, think and throw stuff at your computer. But Joe also breaks news, keeps you informed and provides must-read takes you won't find anywhere else. Call it a hybrid blog for the 21st century.
Yes, Joe is a fully credentialed media outlet by the Tampa Bay Buccaneers and the NFL. Joe routinely attends Super Bowl week events, the NFL Scouting Combine, the spring NFL Owners Meetings, the Pro Bowl and Bucs road games.
The Launch
Since its first post in August 2008, JoeBucsFan.com has enjoyed more than 37 million actual visits to the site and hundreds of millions of page views. More than 26,000 posts about the Bucs have been published, more than any other media outlet during that time.
The Tampa Bay Business Journal took notice in 2010, and then again in 2011, as JoeBucsFan.com and its family of websites and affiliations emerged as a major force in the local sports media. Business Insider even questioned the head of ESPN.com about the popularity of JoeBucsFan.com.
You've heard Joe as a guest many times on WDAE-AM 620, the Buccaneers' flagship radio station, including the weekly "JoeBucsFan.com Hour" on the top-rated Steve Duemig Show, every Wednesday at 5 p.m..
Years ago, CBS-TV sought Joe for reaction to Jon Gruden's firing. Joe also was a frequent guest on the defunct CBS Sports Radio 1010 AM with J.P. Peterson, when he hosted Happy Hour with J.P., and with "The Commish." Joe also was a host and guest on the former sports radio 98.7 FM after its launch in August 2012. And Joe appeared many times with The Fabulous Sports Babe on the local ESPN Radio affiliate. Joe also shared plenty of time with Ozzie the Sports Junkie, when he was heard on WTMY-AM 1280 in Sarasota.
Some of Joe's stories have been so significant that Joe was interviewed for a news update on "The Howard Stern Show," available exclusively on SiriusXM radio. Also, Joe's writings were featured for discussion on the nationally syndicated Jim Rome Show, as well as ESPN's Rome is Burning. Even the print world has called upon Joe; ESPN The Magazine used Joe as a source for a feature story on former Bucs tight end Kellen Winslow.
In 2010, JoeBucsFan.com created the popular Blackout Tour with Paradise Worldwide Transportation. The Blackout Tour was featured in the St. Petersburg Times, Tampa Tribune and on many Tampa Bay and Fort Myers television stations, as well as on NBCSports.com.
Stories on JoeBucsFan.com have been picked up by popular national sports sites, including SI.com, TheBigLead.com, ProFootballTalk.com, Deadspin.com. Quotes from JoeBucsFan.com have appeared in major newspapers around the country, as well. Joe is proud of breaking many news stories every football season.
Premier Partnerships
In 2010, Joe expanded his partnership with ClearChannel Radio (now iHeart Media) and WDAE-AM 620, and on July 5, 2010, JoeRaysFan.com was born. The site joined forces with the immensely popular RaysIndex.com. Joe also ran the wildly successful No Excuses Tour to Tropicana Field, which transported 2,000+ Tampa-area baseball fans to Rays games from 2011-2013. JoeRaysFan.com is now its own site in the "Joe" mold.
Joe also crafted a cross-promotional partnership with WTSP-TV, Ch. 10, which began in August 2011. In 2012, JoeBucsFan.com nearly doubled its traffic and continued to be the No. 1 source for Bucs news and commentary. A record year followed in 2013, and new monthly Internet traffic levels were achieved on JoeBucsFan.com in March 2014.
In October 2015, Joe teamed with Todd Wright, a longtime ESPN Radio voice and well known for his years on Tampa Bay radio, to launch a series of unique, fun and affordable golf tournaments in the Tampa Bay area (JoeBucsFan.com/golf). The series has been a stunning success through five events.
JoeBucsFan.com traffic soared in 2015, and a new monthly unique visitors record was achieved in January 2016, and that record was toppled in March 2016.
In July of 2016, JoeBucsFan.com added renowned Ira Kaufman, the only Pro Football Hall of Fame voter representing Tampa Bay, to the writing team full-time. Kaufman is a producing three weekly columns plus two podcasts.
Also in July 2016, JoeBucsFan.com joined forces again with Todd Wright for a weekly fantasy football podcast targeting daily and league players. Also, in July, Joe launched and sold out the Training Camp Express to bring fans to Buccaneers' practices.
In September 2016, Justin Pawlowski, aka The Commish, joined the JoeBucsFan.com family. A former voice on the Buccaneers Radio Network, and currently part of the University of South Florida Football broadcast team, Justin's widly popular Bucs Uncensored podcast airs three days per week.
Joe even has a little brother site, BalzerFootball.com, manned by Pro Football Hall of Fame voter and renonwed writer Howard Balzer.
On Monday, October 10, the inaugural JoeBucsFan craft beer, "Jason Light Ale" will be unveiled at a JoeBucsFan Watch Party at Abe's Place in Clearwater. All the details are here.