About Joe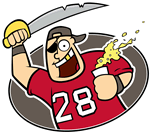 Joe isn't your typical fan blogger. In the real world, the guys who write for Joe have some 40+ years of professional sportswriting experience combined. They've won writing and reporting awards from the Associated Press Sports Editors, the Florida Press Club and the Florida Press Association, among others.
So big deal; Joe can write. What's important is Joe's a crazed Buccaneers fan who lives, breathes and craps football. He also spends time in the Bucs locker room, has fantastic sources, and knows more about the team than most.
JoeBucsFan.com delivers daily commentary that will make you laugh, think and throw stuff at your computer. But Joe also breaks news, keeps you informed and provides must-read takes you won't find anywhere else. Call it a hybrid blog for the 21st century.
Since its launch in August 2008, JoeBucsFan.com has enjoyed more than 30 million actual visits to the site and many tens of millions of page views. More than 20,000 posts about the Bucs have been published, more than any other media outlet during that time.
The Tampa Bay Business Journal took notice in 2010, and then again in 2011, as JoeBucsFan.com and its family of websites and affiliations are now a major force in the sports media. Business Insider even questioned the head of ESPN.com about the popularity of JoeBucsFan.com.
You've heard Joe as a guest many times on WDAE-AM 620, the Bucs' flagship radio station, and you've heard Joe on many sports radio shows in the Tampa Bay market, including the weekly "JoeBucsFan Hour" on the top-rated Steve Duemig Show, and on the Ron and Ian Show.
Years ago, CBS-TV even sought Joe for reaction to Jon Gruden's firing. Joe also was a frequent guest on the defunct CBS Sports Radio 1010 AM with J.P. Peterson, when he hosted Happy Hour with J.P., and with "The Commish." Joe also was a host and guest on the former sports radio 98.7 FM after its launch in August 2012. And Joe appeared many times with The Fabulous Sports Babe in the Tampa Bay area on the local ESPN Radio affiliate. Joe also shared plenty of time with Ozzie the Sports Junkie, when he was heard on WTMY-AM 1280 in Sarasota.
Some of Joe's stories have been so significant that Joe was interviewed for a news update on "The Howard Stern Show," available exclusively on SiriusXM satellite radio. Also, Joe's writings were featured for discussion on the nationally syndicated Jim Rome Show, as well as ESPN's Rome is Burning. Even the print world has called upon Joe; ESPN The Magazine used Joe as a source for a feature story on former Bucs tight end Kellen Winslow.
In 2010, JoeBucsFan.com created the popular Blackout Tour with Paradise Worldwide Transportation. The Blackout Tour was featured in the St. Pete Times, Tampa Tribune and on many Tampa Bay and Fort Myers television stations, as well as on NBCSports.com.
Stories on JoeBucsFan.com have been picked up by popular national sports sites, including SI.com, TheBigLead.com, ProFootballTalk.com, Deadspin.com, EveryDayShouldBeSaturday.com, SportsByBrooks.com and Fanhouse.com. And Joe is proud of breaking many news stories every football season.
In 2010, Joe expanded his partnership with ClearChannel Radio and WDAE-AM 620, and on July 5, 2010, JoeRaysFan.com was born. The site joined forces with the immensely popular RaysIndex.com to form the most influential Rays site on the planet. Joe also ran the wildly successful No Excuses Tour to Tropicana Field, which transported 2,000+ Tampa-area baseball fans to Rays games from 2011-2013.
Joe also crafted a new cross-promotional partnership with WTSP-TV, Ch. 10, which began in August 2011. In 2012, JoeBucsFan.com nearly doubled its traffic and continued to be the No. 1 source for Bucs news and commentary. A record year followed in 2013, and new monthly Internet traffic levels were achieved on JoeBucsFan.com in March 2014.