Wednesday, April 16th, 2014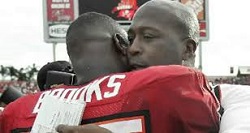 Lots of mysteries surround the 2014 Buccaneers.
By design, the entire offense is a secret. Tampa Bay's targets in the NFL Draft are complete unknowns. And how a mattress on grass, a living-room stripper pole, a kitchen fire and a sibling stabbing a thigh cost the Bucs their good No. 2 receiver is a question mark, too.
It's also unclear how Lovie Smith has changed after a year out of football. (more…)