Jameis Winston Talks About His "Wakeup Call"
July 10th, 2018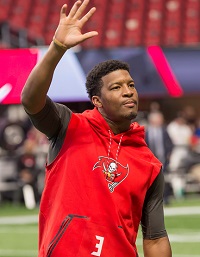 Shoulder injuries, nine straight losses as a starter and being accused of crotch-grabbing without permission were not the only eye-openers for Jameis Winston last season.
Jameis shared with Joe a heartfelt "wakeup call" he experienced in 2017. The chatter from America's Quarterback came during a June episode of the Ira Kaufman Podcast.
Joe asked Jameis about how he felt meeting Aaron Rodgers for the first time last season, a couple months after his private chat with Tom Brady at the Den of Depression.
"Just shaking his hand after that game and getting a chance to play in Lambeau Field, I really wish we could have [won]," Jameis said of meeting Rodgers in November.

"Meeting him would have been better. Same with Tom Brady. Beating him would have been way better [than losing on Thursday Night Football].

"But you know, I think I'm one of the few quarterbacks who play in a division with three MVPs. And it's competition every single week. You know, we have Drew Brees who's a definite Hall of Famer. We have Cam Newton who has already broke records as a quarterback. And we have Matt [Ryan] who is now the highest paid quarterback in the NFL. So I think it's a privilege every week to play in this league against every single quarterback, but definitely meeting the greats like Rodgers and Brady last year was not only a privilege, but I mean it's a wakeup call. It's like, 'Jameis you're competing against these guys and instead of you idolizing these guys, you need to be trying to beat these guys every single time you play them. Like you're already playing three of the best [in your division] every single week.' So just a wakeup call that I got to step my game up. Even though [Rodgers] was hurt, we still lost that game. People that have success in this league they win. That's my main thing I'm focusing on is winning."
Great, candid take from Jameis, but also a little odd for a third-year quarterback. It was as if Jameis acknowledged that he caught himself getting starstruck and recognized that it affected him.
Before meeting Brady and Rodgers, Jameis already had beaten Newton, one of his major childhood idols, Brees and Ryan, as well as Eli Manning and Russell Wilson. Jameis also played in a Pro Bowl. So one might think he had gotten past the wakeup-call stage.