Glennon Factor In Effect For Week 3
July 10th, 2018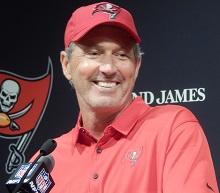 It's easy to be optimistic that the Bucs will win one of their first three games this season.
There's even enough meat on the bone to make a staunch Bucs-fan pessimist think twice. 
Perhaps Joe's favorite nugget out there revolves around the Bucs' Week 3 opponent, the mighty Pittsburgh Steelers, the team Tampa Bay will face at home on Monday Night Football.
Last year in Week 3, Pittsburgh traveled to Chicago and lost 23-17 to the ex-Bucs QB Mike Glennon and the Bears. Chicago running backs ran the ball down the Steelers' throat, notching 35 carries for 218 yards. Glennon was 15-for-22 for 101 yards and a touchdown as Chicago blew a 17-7 halftime lead and won in overtime.
So why exactly can't the Bucs do the same thing — with a better quarterback under center in Ryan Fitzpatrick and likely more talent on the field than the 2017 Bears?
Packers backup Brett Hundley also torched the Steelers last season, and Baltimore dropped 38 points on them before Jacksonville rung up 45 points on a sloppy Pittsburgh defense in the playoffs in January.
Man, it's a great day for the optimists.