Day 2 Minicamp Notes, Nuggets & News
June 14th, 2018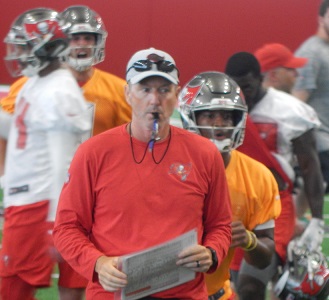 It's off to the air conditioning! Joe gleefully jogged across the One Buc Palace practice fields to the indoor facility for viewing of Wednesday's two-hour practice. Here's your need-to-know:
* Ronald Jones up the middle for a four-yard touchdown. Yes, underwear football where a running back doesn't have to worry about getting bruised.
* Jacquizz Rodgers scores on the very same play on the next play.
* INTERCEPTION! Someone steps on Ryan Fitzpatrick's foot as the pocket collapses and Fitz stumbles away from trouble and throws off his back foot into the end zone as he is falling backwards. Great pursuit and tip by rookie safety Jordan Whitehead. Ball is picked by safety Isaiah Johnson.
*Offensive coordinator Todd Monken didn't like the rhythm of the red-zone, walk-through like period. Jameis Winston is barking rhythm after that to the offense.
*Mike Evans beats Brent Grimes easily on a slant in the end zone. And here comes the slam dunk over the goal posts. Grimes is annoyed.
*11-on-11 red zone kicks up and it's a draw to Peyton Barber, followed by a short pass to Barber to the 4 yard line. In a real game, Lavonte David is in position to completely blow him up.
*The run-pass-option appears and it's not smooth, but it is a touchdown (underwear football) for Ronald Jones.
*Adam Humphries either couldn't handle a rocket in the end zone (red zone) or Hargreaves had a nice breakup. Regardless, coverage was there.
*Back to Humphries and he shows some hops and catches and toe-taps in the end zone in a crowd.
*Perhaps nothing is more fun in these spring practices than watching Brentson Buckner coach players through drills. Joe spent a lot of time on that. Video later today.
* Alan Cross with a sweet outstretched catch down middle for a touchdown from Fitz.
* Bernard Reedy on a bubble screen from Ryan Griffin.
* Fitz rifles a pass during seven-on-seven drills in a crowd and threads the needle to find tight end Jason Reese for a 10-yard touchdown.
* Koetter seems ready for some football. He called a special teams play for the punt team and sharply slapped his hands together.
*Oh, no. Another out-of-sync moment by Jameis and DeSean Jackson. Three-yard pass in red zone lands short. Jackson comes back for ball, dives but can't grab it.
*Jameis too high for O.J. Howard.
*DROP! Ronald Jones in the red zone, dumpoff pass.
*Man, the Bucs' third-team defense looks bad. But more important, Vita Vea and Jason Pierre-Paul look awfully special.
*Plenty of juice in Charles Sims' legs.
*Davonte Bond with a pass breakup on Barber.
* Mike Evans catches a short pass from Jameis for a touchdown and Vernon Hargreaves looked hopeless and helpless on the play as Jameis made sure he put the ball where the former Texas high school basketball star could grab the ball, and Hargreaves couldn't. In general, Hargreaves looks so comfortable and instinctive in the slot. Different player when he's on the outside.
* Ronald Jones with a monster gain up middle. He sure does have a burst. But again, underwear football.
* Jones around left end… to the house.
* Evans catches a short pass from Jameis to left for about 25 yards.
* Jameis connects with O.J. Howard for a monster gain in the right seam between Hargreaves and Kwon Alexander. Explosive play indeed. The kind of look that would get Bucs fans fantasizing.
*Howard comes back and hauls in a mid-range throw with Kwon covering. Howard appears unstoppable when using his size.
* Jacquizz Rodgers takes off around left end for a 47- yard score.
*Bond redeems himself with another pass breakup.
*Great moment in the stands. Bucs have V.I.P. guests in attendance, roughly 400. At one point, Joe is sitting with esteemed columnist Ira Kaufman of JoeBucsFan.com. A roughly 21-year-old turns around, looks at Ira and playful barks, 'Hey, Irv.' The reply? "That's Sage to you young man." It wasn't Ira's only interesting fan encounter of the day, but those will be shared on the Ira Kaufman Podcast next week.
Jameis to Evans. pic.twitter.com/Be1rhu8YEW

— JoeBucsFan (@JoeBucsFan) June 13, 2018