Running Back Toughness = Safety Toughness?
May 13th, 2018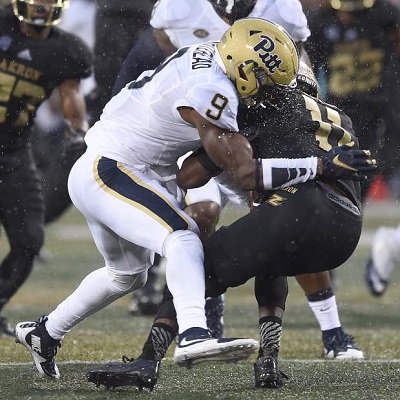 College and NFL players are often reminded that everything is on film and scrutinized, including practice, so 100 percent effort when the ball is snapped is in the best interest of their careers.
Listening to Dirk Koetter yesterday truly reinforced that point.
Koetter was asked about fourth-round safety Jordan Whitehead, Darrelle Revis' cousin out of the University of Pittsburgh. He's super-athletic and a little undersized for the position at 5-10, 198 pounds.
For Koetter, that's a non-issue.
Why? Turn on his college game film — at running back.
"He carried the ball a lot on outside running plays and he really showed toughness. Just because a guy is maybe five or six pounds off for what the ideal position weight is, that doesn't mean he's not tough enough to play," Koetter said. "So, we'll see what happens."
For the record, Whitehead carried the rock 43 times in college for 362 yards and three touchdowns. Impressive totals. But he is here to play safety.
Joe thought it was interesting that Koetter was looking at the running back toughness and applying it to safety.
We'll see what happens when the pads come on, which is just 10 weeks away.