Jason Licht, Joel Glazer Free Agency Philosophy, And Four Options For The Bucs
March 12th, 2018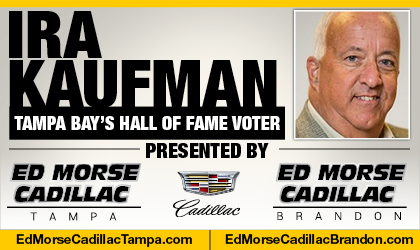 BY IRA KAUFMAN
If you expect the Bucs to go hog wild during the opening days of free agency, you're going to head into the weekend disappointed.
Yes, Tampa Bay is in good shape when it comes to available funds under the salary cap. And yes, the Bucs have glaring needs coming off a 5-11 season that tested the faith of the Stick Carriers.
But as a general rule, the Glazers aren't particularly interested in turning heads during free agency. This year's free-agent crop is hardly teeming with difference-makers, so expect the Bucs to focus on value — potential starters who represent upgrades at a reasonable price.
Much of the buzz concerning this year's class focuses on the quarterback position — and the Bucs already have their pieces in place under center. They still have faith that Jameis Winston will be the long-term face of this franchise, even with a dragged-out Uber investigation that should have been wrapped up in about 11 days.
Jason Licht won't sit on his hands. He will be active in the next few weeks, even knowing the Glazers would prefer a cautious approach to free agency.
"I'm very pleased because in free agency, it's buyer beware," Joel Glazer told me a few years back. "Sometimes you have to resist that instant gratification because while you'll feel good at that moment and you got that headline, you pay some consequences later by overpaying for players that don't necessarily equal the money."
For one season at least, Calais Campbell made the Bucs look foolish. The Jags showed Campbell the money and he responded with a career year, lifting up teammates while nearly lifting Jacksonville into the Super Bowl.
I voted for Campbell as the NFL Defensive Player of the Year and he finished second to Aaron Donald, but there are no studs like Calais Campbell available this time around.
Here are some free agents that make sense for an organization that hasn't exactly distinguished itself in the month of March:
RB Orleans Darkwa
He just turned 26 and Darkwa could combine with Peyton Barber in a formidable backfield tandem. He averaged 4.4 yards per carry last year behind a Giants offensive line that is no bargain. In the season finale against the Redskins, Darkwa gained 154 yards in 20 carries, highlighted by a 75-yard touchdown run.
G Josh Kline
The Titans will regret allowing the 28-year-old Kline to reach free agency. He's a bruiser who would immediately upgrade the interior of Tampa Bay's offensive line without costing a fortune. Licht can get all the inside information he craves on Kline from Tennessee GM Jon Robinson, who considers Licht a mentor.
CB E.J. Gaines
Despite some injury concerns, Gaines makes sense for a Tampa Bay secondary still unsure about where Brent Grimes will play this fall. The Bills went 8-4 with Gaines in the lineup and he proved a key addition from the Rams as part of the Sammy Watkins deal. Only 26, Gaines would make sense for the Bucs, even if Grimes returns.
S Kenny Vaccaro
Sometimes, a change of scenery can work wonders. The Saints selected Vaccaro in the first round of the 2013 draft and he won't be signed to a second contract, but that doesn't mean he hasn't made plays.
Injuries and inconsistency have prevented him from reaching his potential, but a fresh start in Tampa next to Justin Evans could maximize his versatility.
If the Bucs aren't ultra aggressive in free agency, ownership won't be disappointed. This franchise is in the process of locking up core young players, a tangible sign of progress.
"When you start racking up the number of players you drafted and signed to second contracts, you can definitely see a dotted line to success," said Joel Glazer. "Free agency can be almost like a drug.
You look for that quick hit, that quick feel-good. I know teams that year in and year out are the Super Bowl champions of free agency, and amazingly enough, it doesn't seem to happen for them during the season. If you can resist the urge for about six weeks, you're often better off."