Clock Ticks On Cameron Brate
March 12th, 2018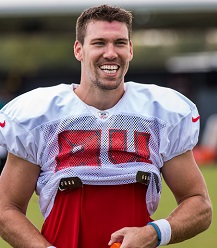 Half the starting tight ends in the NFL earn more than $6 million per season.
Restricted free agent Cameron Brate earns about 90 percent less.
So now what?
It's a safe bet that the Bucs' Harvard tight end and major red zone target realizes he's crazy underpaid as he awaits an offer from the Bucs prior to Wednesday's deadline on the 2018 season.
Joe was told weeks ago there was confidence that Brate and the Bucs would have a new contract extension done by now. If those talks stall in the final hours, look for the Bucs to slap a first-round tender on Brate, which would pay him a few nickels over $4 million this season. The "tender" means if another team bested that salary for Brate and signed him, it would have to cough up their first-round pick to the Bucs as compensation. That's highly unlikely, of course.
With a $70 million mountain of salary cap space, the Bucs can make a statement and pay Brate market value guaranteed for 2018 and 2019, or they can play games. Joe would get the job done now unless Bucs management is skeptical about the future of Jameis Winston.
Why? It's obvious Brate and Jameis have had the best QB-receiver chemistry the team has seen over the past three seasons. Only Mike Evans has caught more touchdowns than Brate over the past 32 games, 17 vs. 14. And Jameis always is quick to name Brate when he talks about work ethic and examples of the right attitude on the offensive side of the ball.
Or the Bucs could just lock down Brate for one more season and hope O.J. Howard turns Brate into an afterthought in 12 months.
Joe doesn't like that gamble.