The War On Jameis Advances
December 11th, 2017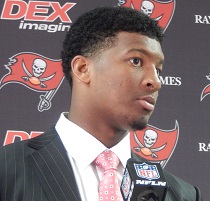 Man, somebody or somebodies out there really is out to get America's Quarterback, Jameis Winston.
That mysterious entity sought to make Jameis look like a petulant, spoiled child to the nation yesterday and largely succeeded.
Jameis' attacker was whoever caught the ear of NFL Network's Ian Rapoport and sold him on the notion Jameis is upset with Dirk Koetter for his playcalling and an alleged weak public defense of how Jameis was dealing with his painful shoulder injury.
The story went national, of course, and Jameis came off to millions looking like a 23-year-old starting QB with a 17-25 record who has the audacity to whine about how he's being treated by his head coach.
What a way to go after Jameis, to paint him as a young man stewing in bitterness because he's offended/butthurt that his coach doesn't do everything he likes. It's a terrible look for Jameis.
And despite how after yesterday's game Koetter said it was all wrong, and how Jameis offered a clumsy but passionate refute in his postgame news conference, it really doesn't matter. The national media doesn't give two hoots about an after-the-fact news conference in Tampa. The damage was done.
Jameis emerged looking like a coach-killer, a guy who's the opposite of a strong team leader, a sour face of a failing franchise.
Joe hereby gives a sarcastic bravo to the slime who went after Jameis. Well played. And boo to the many Buccaneers officials who didn't break out the cannons to defend the Jameis and Koetter bond on a national scale.
Joe has written previously about the many media attacks on Jameis, most of which were undeserved. They started before he landed on the Buccaneers. Of course, Jameis has brought negative attention to himself. See the fresh Uber/crotch-grabbing allegation.
Yesterday's, though, was especially ugly.
When Jameis was attacked by the Tampa Bay Times in February, Jameis' mother hopped on WDAE-AM 620 to defend her son's honor. And Jameis' father has been publicly outspoken previously.
So far, it's crickets from the Winston family on this latest smear. Joe sure hopes they speak up soon.