One Concern Looms Above All Others
December 13th, 2017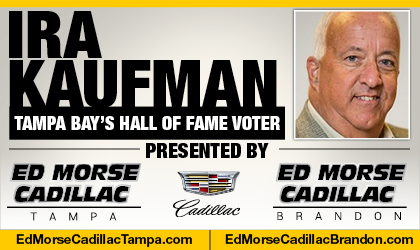 Ira Kaufman is the most beloved, revered and esteemed Buccaneers columnist in town. He has hung his hat at JoeBucsFan.com world headquarters since July 2016. Tampa Bay's only Pro Football Hall of Fame voter, Ira busts out columns here every Monday, Wednesday and Friday, and his award winning podcasts fire Tuesdays and Thursdays. You can also see Ira every football Sunday at 10:30 a.m. on FOX-13, Scott Smith's Tailgate Sunday.
BY IRA KAUFMAN
So many things have gone awry for the 2017 Buccaneers, it's fruitless to try and list them all in one column.
Great expectations have given way to feeble reality as the Bucs slog their way toward an offseason that will likely be marked by significant changes. But of all the sub-plots lurking at One Buc Place, one story line carries the most weight.
Beyond the woeful pass rush, the soft coverage and issues along the offensive line, one concern looms above all others: Jameis Winston is now under scrutiny.
How can he not be, considering he hasn't progressed as a passer, he faces a potential suspension and he is now facing questions about his relationship with Dirk Koetter?
For two years, Winston's skeptics have been in the bunker, biding their time. They remained silent as Winston proved productive on the field and incident-free off the field.
Now, they are coming at No.3 in droves and it's not a pretty sight.
Painful Points
The national media is weighing in on Winston's travails, even to the point of questioning his potential as a franchise quarterback.
"While Winston has talent, leadership ability and a desire to win, the first overall pick in the 2015 NFL draft lacks in decision-making, accuracy and knowledge of situational football," says David Carr, the first overall pick in the 2002 draft and now an NFL Network analyst.

"The Bucs were one of the most hyped-up teams in the preseason. Now, Winston's inconsistency has defined the Bucs' 4-9 record. Even with all of the weapons at his disposal, the Bucs have struggled to get into the end zone."
Carr has a point, a painful one for Buc fans. Tampa Bay averages only 20.3 points per game, ranking 21st in the league despite adding DeSean Jackson, O.J. Howard and Chris Godwin.
The Bucs score fewer points than the Titans, who have eight less takeaways and don't have Winston's weapons.
Despite attempting the third-most passes in the league, Tampa Bay has only three completions of 40 yards or more. That's tied with Buffalo, Cleveland and Chicago and ahead of only Denver.
Jackson, who registered at least one 60-yard catch in each of his first nine NFL seasons, hasn't had a reception longer than 41 yards as a Buccaneer.
Missed Goal
That's a big problem because Koetter said a major priority coming into the season was improving Tampa Bay's big-play capability.
"Winston's lack of on-field growth under Koetter might lead to an organizational makeover far before the Super Bowl is played in Tampa Bay in 2021," Carr said. "If Winston doesn't show improvement over the final three weeks of this season, with both parties not seeing eye to eye, something's got to change, and it's likely Koetter will be the first to go."
We can argue all day whether Winston has regressed — but that's not the point. What's clear is he hasn't taken the next step forward in a division crammed with elite quarterbacks.
If Winston isn't progressing, that's on Koetter. If Winston is suspended, that's on Winston.
Either way, Winston has made himself a target for critics who didn't want the Bucs to draft him in the first place. Finishing up strong in the final three weeks would go a long way in restoring his reputation.
"Winston will be on his rookie contract through 2018 (with a fifth-year option in 2019)," Carr said. "I think the Bucs will give him one year with a new coach to prove he's their franchise quarterback for the long haul. Winston's a solid quarterback, but he will never be great until his situational football is better than his physical play. Winston's running out of time. If there's not a noticeable improvement, he could have a new home before too long."