"Make Mike Evans Great Again"
December 6th, 2017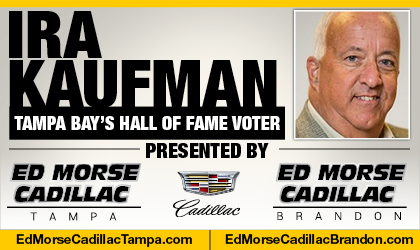 BY IRA KAUFMAN
Nobody should be surprised that Mike Evans is getting his hands on fewer footballs this season.
After all, the additions of DeSean Jackson and rookies O.J. Howard and Chris Godwin gave Tampa Bay's passing game more options to complement Cameron Brate and Adam Humphries. I didn't expect Evans to match his gaudy 2016 numbers: 96 catches for 1,321 yards and 12 touchdowns.
But no one expected this.
Evans will always be too talented to have a terrible season, yet he'll be the first to admit he has regressed this fall. He's not the reason the Bucs are 4-8, but he needs to be a big part of the solution going forward.
Unlike 2015, Evans isn't dropping passes left and right or arguing with officials constantly, pleading for interference calls that don't materialize.
He's simply not making enough plays … and that's on him.
Jackson's presence, in theory, should have made opposing defenses think twice about committing additional resources to stop Evans. On paper, these two looked like Double Trouble.
Yet somehow, neither Evans nor Jackson has lived up to expectations as we head into the final quarter of a dreary Buc season.
Somebody please give No. 13 a map to the end zone. When Evans suits up Sunday against the Lions, he'll be trying to score his first touchdown in six weeks.
The man's wrecking a lot of fantasy teams.
Absurd Total
He's still looking for his first 100-yard effort of the season, and that's a travesty for a wide receiver of Evans' caliber.
"I've never cared about the numbers," he says. "I feel like I'm not playing that bad, but I'm not playing at the level I'm capable of — which is great."
Before you raise an eyebrow, let's acknowledge that Evans has played some great football for the Bucs since being selected in the first round of the 2014 draft. Before he's through in pewter, he figures to own every meaningful franchise receiving record. He worked hard to improve his hands a year ago and the results were impressive as he led all NFL receivers in generating first downs.
This spring, Evans vowed to work on his big-play capability. He wasn't happy with his paltry yards-after-catch numbers last year, and it's still a major issue.
His absurd total of 105 yards after the catch is matched by Howard, who has been targeted 69 fewer times. Where are the big plays?
Final Four
Tampa Bay fans who see Antonio Brown and Julio Jones take over games have to wonder why Evans isn't more dominant. Evans has six catches of 20 yards or more — Brown and Jones have combined for 38.
Evans doesn't seem to be as mentally focused as last season. He lost his cool in New Orleans and was suspended for one game after a sideline incident. He appeared visibly frustrated when shadowed by Minnesota's Xavier Rhodes and Arizona's Patrick Peterson.
These final four games offer an opportunity to make Mike Evans great again.
"It's always important to finish strong, whether it's five games in the NFL or five points in Ping-Pong," he says. "I always want to win. Jobs are on the line."
So are reputations.
Ira Kaufman is the most beloved, revered and esteemed Buccaneers columnist in town. He has hung his hat at JoeBucsFan.com world headquarters since July 2016. Tampa Bay's only Pro Football Hall of Fame voter, Ira busts out columns here every Monday, Wednesday and Friday, and his award winning podcasts fire Tuesdays and Thursdays. You can also see Ira every football Sunday at 10:30 a.m. on FOX-13, Scott Smith's Tailgate Sunday.