Ira Kaufman's 10 Takeaways From Bucs-Packers
December 3rd, 2017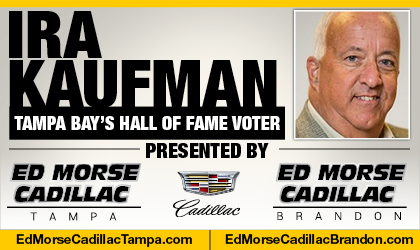 BY IRA KAUFMAN
They played hard, they played physical … and they lost.
Blame this setback on lack of football smarts. Tampa Bay kicked Green Bay's rump up and down Lambeau Field all afternoon in a game the Packers simply had to have.
In the end, the home squad capitalized on critical mental errors to stay alive in the NFC wild-card chase while denying the visitors any chance at a winning record.
The Bucs have now dropped 10 of 15 games since last season's 8-5 start, including a 1-8 mark on the road. The Packers walked off the field knowing the Bucs lost this game just as much as Green Bay won it.
* Mistakes, they made a few. Try another Jameis Winston turnover as he is being sacked. Try a blown blocking scheme that allowed a free Green Bay defender to block a punt by racing down the middle untouched. Try some key penalties that helped the Packers prevail on a day they barely had the ball. Try an errant snap down near the Green Bay end zone.
* Winston continues to be plagued by fumbles, and that's a problem because he should know better after 41 starts. He has fumbled 26 times as a pro, losing 11, and when you add 39 interceptions, that makes 50 giveaways. Unless you're Brett Favre, that's too many turnovers and an unacceptable burden on your teammates to bail you out.
* A strange day for Tampa Bay's offensive line, which had provided stout protection most of the year. Winston was sacked seven times and hit on 13 occasions as Clay Matthews enjoyed a field day. The veteran linebacker posted 2 1-2 sacks and three hits, disrupting the Buc backfield with little opposition.
* After struggling to open running lanes for three months, the men in front of Winston led the way for a 165-yard ground attack that helped Tampa Bay maintain possession for more than 37 minutes. In the middle two quarters, the Bucs controlled the clock for 22:27, compared to only 7:33 for the home team.
* And now we come to the strange case of young Peyton Barber, who ran 23 times for 102 yards and added 41 yards on 4 receptions. While Doug Martin kept running on empty, Barber was placed in mothballs after opening the season with 47 yards on 10 carries against Chicago. In the ensuing six weeks, Barber was granted only 2 rushing attempts. That, my friends, is an inexplicable travesty.
* Need another example of dumb football? Knowing Brett Hundley can do more damage with his legs than his right arm, the Bucs continually let him escape the pocket as defensive ends kept knifing inside. On a day when Hundley threw for 84 yards and registered a dismal passer rating of 48.3, he burned Tampa Bay for 66 yards on the ground. Mike Smith's defense forgot Rule No.1 — keep this inexperienced backup in the pocket.
* The defense in overtime was a joke, and it's not like Gerald McCoy and company were exhausted from being on the field all day. Hundley scrambled around right end for seven yards on 3rd-and-4, then ran right again for 18 yards only two plays later. Let's skip any discussion of the atrocious run fits on the winning touchdown, shall we?
* The rookie class did a nice job overall. Chris Godwin, a precise route runner, looks like a keeper. O.J. Howard's blocking was instrumental in the success of the run game and Justin Evans continues to showcase his range and athleticism.
* This setback was particularly galling because the Bucs were the better team. They converted 9-of-16 on third down and had 21 more snaps than Green Bay, even with that OT drive factored in. The Bucs had been 7-0 under Koetter when running the ball more than 30 times, but all that good work was wasted because Tampa Bay didn't play intelligent football.
* The Bucs took another step toward securing residence in the division basement for the sixth time in the past seven seasons. That's tough to do, even if you're trying. Many Tampa Bay fans are already thinking about the April draft — that's never a good thing in early December.
Ira Kaufman is the most beloved, revered and esteemed Buccaneers columnist in town. He has hung his hat at JoeBucsFan.com world headquarters since July 2016. Tampa Bay's only Pro Football Hall of Fame voter, Ira busts out columns here every Monday, Wednesday and Friday, and his award winning podcasts fire Tuesdays and Thursdays. You can also see Ira every football Sunday at 10:30 a.m. on FOX-13, Scott Smith's Tailgate Sunday.