Who's The Coach Killer?
December 11th, 2017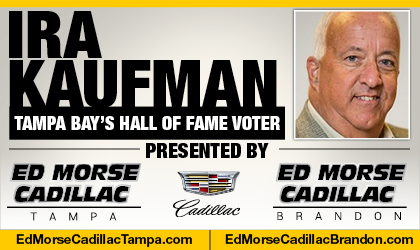 BY IRA KAUFMAN
Gather 'round Buc fans, we've got a classic whodunit on our hands.
Somebody wants Dirk Koetter fired, that much is clear. If the Glazers haven't already made up their minds about whether to bring Koetter back for 2018, the best way to get him out of town is to suggest things have soured between the head coach and the face of the franchise.
That's exactly what was reported by NFL Network in the hours leading up to Sunday's 24-21 loss to Detroit, a report that Koetter said he wasn't aware of until after the Bucs dropped to 4-9.
Both parties have denied the validity of the report, but Winston's refutation left a lot to be desired if you are a Koetter supporter. According to the NFL Network story, the alleged rift between coach and quarterback is due in part because Winston feels Koetter's offense is too predictable.
In his emotional post-game response, Winston essentially endorsed the idea that Tampa Bay's attack is too vanilla and offers few surprises.
"It doesn't matter what a coach calls, it's our job to execute," Winston said. "I've been playing football since I was four years old. Being predictable is what makes you a good football team — when they know what you are going to do and you still go out there and you beat them."
What is this, the Packers sweep under Vince Lombardi?  Back in the day, Green Bay opponents knew the power sweep was coming and were helpless to stop it.
That was 50 years ago and you'd like to think pro football has gotten a little more sophisticated. Coaching staffs have swelled and every move you make now is on tape for the next opponent to study.
Winston never said the Bucs aren't predictable, and that charge has to sting Koetter to his core. This is a man who made his football bones by earning a reputation as an innovative play-caller.
Who's The Leaker?
And taking this all in are the Glazers, who will soon decide whether to make a fifth coaching change since 2009. The question remains, who leaked this story to NFL Network?
Was it the Gruden camp, eager to ensure Koetter is jettisoned after a woeful season?
I'm not buying that scenario. Say what you want about Gruden, but the man has respect for the NFL coaching fraternity. In his overview of the Buc season just last week, Gruden said it would be foolish to put all the blame on the head coach.
What about Jason Licht? Is he pushing Koetter out the door?
Absolutely not. When Licht first became aware that the NFL Network report was upcoming, he said it was inaccurate and should not see the light of day. He's an innocent man.
Predictable Ending
Then there's the Winston side. If they are responsible for the report, Koetter has virtually no chance to survive … even if the details of the story are manufactured.
Despite a potential suspension hanging over his head, Winston is still viewed by ownership as a franchise quarterback. He would win any power struggle … simple as that.
By questioning the very relationship that earned Koetter his promotion to head coach, Sunday's report represents a shiv to the man's back.
The ending, it appears, is all too predictable.
Ira Kaufman is the most beloved, revered and esteemed Buccaneers columnist in town. He has hung his hat at JoeBucsFan.com world headquarters since July 2016. Tampa Bay's only Pro Football Hall of Fame voter, Ira busts out columns here every Monday, Wednesday and Friday, and his award winning podcasts fire Tuesdays and Thursdays. You can also see Ira every football Sunday at 10:30 a.m. on FOX-13, Scott Smith's Tailgate Sunday.