Lovie Smith Takes The Torch For Lavonte David
September 4th, 2014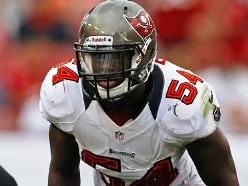 Joe knew this would happen. When Bucs stud linebacker Lavonte David shoved Geno Smith out of bounds in the final seconds of the gnawing loss to the Jets in New Jersey to start last season, and was flagged for a late hit setting up the Jets' game-winning field goal, Joe just knew that would hound David for a long time.
The game was played in Gotham, the media capital of the world.
Want to make a name for yourself, good or bad? Do it under the klieglights of Gotham and you will be tagged for years, if not forever.
Sure enough, when former Bucs rock star general manager Mark Dominik hosted a SiriusXM NFL Radio show this past summer with Howard David, and Dominik mentioned David's name as an elite linebacker, David cackled with glee, "You mean the guy who won the game for the Jets with a late hit?"
Yesterday, Bucs coach Lovie Smith didn't mention that boneheaded play, but like Joe, Lovie is tired of folks outside the Tampa Bay area claiming to be football savants and never hearing about David — other than his infamous hit.
And Lovie's about had enough as he took the stump for David and all but stated if someone claims they don't know David, they just flat don't know football.
"I don't know why he hasn't," Lovie said about the lack of national love for David. "If you're a linebacker guy and you've looked at the linebackers in the league then you should notice him and ask about number 54 down here. He can do it all that you ask an outside linebacker to do. He can guard tight ends, receivers; he's an excellent zone coverage guy; he has good hands; if we wanted to make him be one of the better pass rushers as a linebacker, he can do that; he's disciplined; do you want me to stop or keep coming? Just everything that you look for in a linebacker he has. [He's] Team captain – it takes a lot to be voted team captain also. Did I tell you guys that I was out last year? When I was out last year, I got a chance to watch, you always look – I wanted to get a chance to really analyze the linebackers and Lavonte David was one that I just loved his game then and now I get a chance to see it daily. More people are taking notice to him, how can you not?"
Exactly, how could you not?
Joe remembers on Twitter this past winter some idiot Browns fan got into a huff when one of his linebackers was snubbed for an award in favor of David. Said Browns buffoon, "Who the hell is Lavonte David?" That guy and the Browns deserve each other.
The best way for David to get NFL street cred and have people to forget about his now infamous play in New Jersey? Simple. The Bucs put together a winning season. Then David won't be playing in the shadows of not just others, but his own toe-stubbing.
To hear more of Lovie, click the red button below. Audio courtesy of Joe's friends at WDAE-AM 620.