Joe Gets Called A Tree Hugger, Talks Guards, Trades, Bubble & More
August 27th, 2014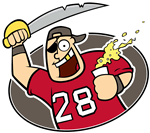 The always fiery and entertaining JoeBucsFan Hour with the dean of Tampa Bay sports radio, Steve Duemig of WDAE-AM 620, was especially intense today.
Joe's never been called a "tree hugger" before.
Joe dove into all things Bucs and dove into the Richie Incognito debate, as well chatter about the roster bubble, the Logan Mankins blockbuster, and so much more.
Enjoy the broadcast audio below.