Hawk Swoops In To Set The Tone
August 23rd, 2014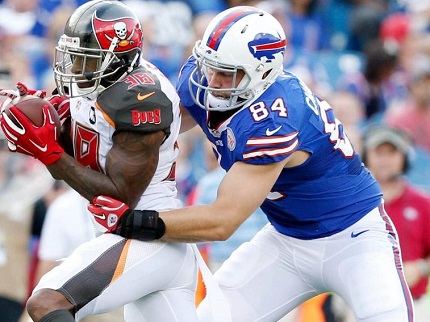 The buzz around the Bucs' cramped locker room this evening was turnovers. Turnovers, turnovers, turnovers. The first team defense forced three of them in just one half of play.
Tampa Bay first-teamers pitched another shutout, and it all started with the former All-Pro in centerfield, safety Dashon "Hawk" Goldson, who swooped in on the Bills' first drive. Hawk broke well on the ball and jumped the route of tight end Scott Chandler. Before that play, the Bills had moved the chains.
Joe asked Goldson after the game about the interception, the state of his return from offseason ankle surgery and where the defense is compared to some of the great ones he's played in.
"Overall, I still got work to do. But I mean I feel good. I think I'm in ok shape. The interception, man, it was a good play. Coach made a good call," Goldson said. "We based our defense on [takeaways]. We emphasized that going into the game, in our meetings at night. You know we come in here and get turnovers.

"We're still working. We're not set on where we are. These first few games show the potential that we have. But there's little stuff we need to work on, but at the least this defense will be special. With the talent we have and what the coaches bring to the table, it's got to."
As Joe's written previously, if the Bucs can get one of their talented safeties to play to their potential, this defense could get to that elite level.