Bobby Rainey's Sales Job
August 31st, 2014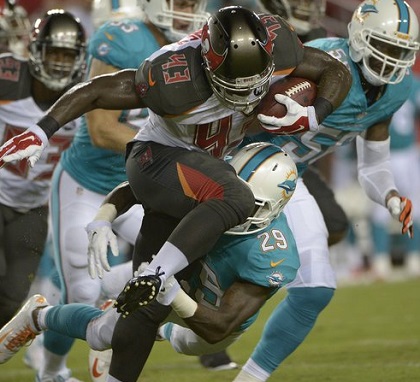 Back on Aug. 12, when Lovie Smith was in anyone-but-Eric-Page mode, the head coach joked at a news conference that he had a chat with Bobby Rainey, who was imploring him that he could be a successful NFL punt returner.
So, Lovie said, Rainey would get a shot against Miami in preseason.
But the Miami game got Lovie publicly excited about rookie Solomon Patton's returner skills. For all the talk and hype, however, Patton never really did anything against top competition, and he made a poor decision to catch a punt at the seven yard line against the Redskins. Apparently, that was enough to convince Lovie that Rainey was just as good and, subsequently, preserve a roster spot. Patton was cut yesterday.
Rainey didn't return punts during his junior and senior college seasons, and he has no regular season NFL experience. Kudos to the sales job he did on Lovie.
Rainey must be a convincing guy. He's always got a big smile on his small frame. (Rainey is listed at 5-8, 205, but Joe's sure he's not that tall.) And Rainey can tell doubters about his 100-yard-plus rushing games last year after coming off his couch in midseason, as well as the shiny Ravens Super Bowl ring he owns.
For now, he's the Bucs' return man. Joe's got a feeling Rainey will at least make good decisions, even if he lacks elite skills at the position.