Awaiting The Real Josh McCown
August 23rd, 2014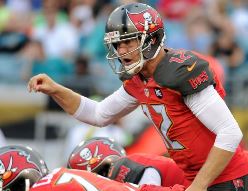 Leadership skills and experience are massive reasons Josh McCown was anointed Tampa Bay starting quarterback. It certainly wasn't his 16 career victories since being drafted in 2002.
McCown is smart, wise and serene under pressure, Lovie Smith said in March, and McCown was going to surprise with his elite athleticism at 35 years old.
Joe wants to see some of that today in Buffalo.
The Bucs gameplanned for the Bills, which owned the NFL's 10th-ranked defense last season. It's the "dress rehearsal" for 2014. Surely, McCown will be free to audible and truly place his stamp on the offense for the first time, likely through three quarters.
Joe expects McCown will be the fourth best QB in the NFC South. (Sorry, reality is painful.) But that doesn't mean McCown can't be consistent, steady and look like a legitimate NFL veteran starter, one who is a force for smart play and flashes of greatness.
McCown has spoken — for months — about how he's focused on having the Bucs hit the ground running. That's why he gathered the entire offense at a local Tampa park for a series of extra spring practices — which drew 100 percent attendance.
Those sessions mirrored what McCown led with Jay Cutler in Chicago last season. The Bears, with a new head coach and a new offense, overcame the learning curve and finished as the NFL's No. 2-ranked offense.
That desired fast start has been nearly an obsession for McCown. He knows it represents the Bucs' greatest shot at a successful season, as well as his best chance at job security. Yes, Mike Glennon lurks. McCown is not untouchable with a season-long leash.
Joe wants to walk away from the Buffalo game confident in McCown. No matter what Lovie said about how a team can surely win 10 games with strong, turnover-happy defense, plus good special teams, there's little hope for January victories without a very effective and talented QB.