Talking D-Line With Joe Cullen
June 3rd, 2014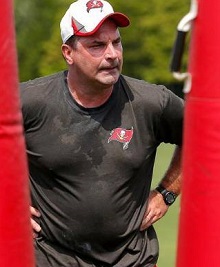 Buccaneers defensive line coach Joe Cullen looks and sounds like a football coach. The Rod Marinelli disciple is an excitable guy but was mellow talking with his unique voice to media today at One Buc Palace.
Cullen went into the Bucs' "friendly system up front," when it comes to what his men will be asked to do.
As Gerald McCoy excitedly told Joe last week, there will be "way less" stunts, and Cullen touches on how it's all about 1-on-1 battles.
Enjoy the 620wdae.com audio below. And here's a story on Cullen Joe delivered last week titled, "Everyone Gets Yelled At."