The Chirping Of Gil Byrd
May 20th, 2014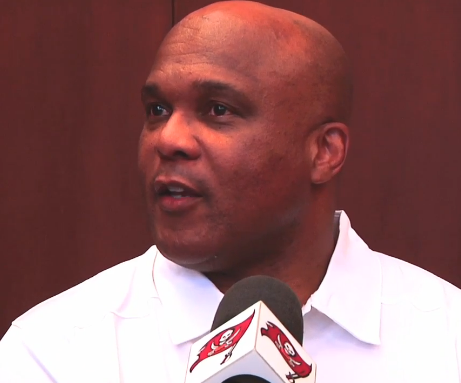 The Buccaneers' cornerbacks coach really was getting after it today on the sunny practice fields of One Buc Palace.
Gil Byrd, a former Pro Bowl player with the Chargers, was all over his troops during man coverage drills against real receivers.
Before that, however, Byrd was drilling his men through a hands (within five yards) breaking to a shuffle exercise. And it was all about the "shuffle."
On the field with real receivers, Byrd was all over Jonathan Banks after Lavelle Hawkins beat him for a touchdown. "Too slow, Jonathan!" Banks seemed inspired on his next rep, picking off Josh McCown while fighting off Chris Owusu on a deep ball, which was pretty well thrown. Russell Shepard proceeded to beat Banks soon after and Byrd screamed "Quick shuffles!" at Banks.
Don't dare make a bad play on a catchable ball or pass on a chance to earn a takeaway, Byrd will be on your ass. "Not volleyball. Not volleyball," Byrd yelled at Deveron Carr. "Catch that thing! Not good enough!" Byrd shouted at Danny Gorrer.
Undrafted rookie Keith Lewis got a lesson in football IQ: "The speed he comes off [the line of scrimmage] tells a story."
Byrd is easily the most boisterous coach on the defense. Safties coach Mikal Smith, Lovie Smith's son, is more reserved. But Joe had to laugh at Mikal Smith barking at his safeties to go through a drill at full speed, not speed he showed while demonstrating. "This is intense. You are going full speed."
.