NFL Owner Derrick Brooks?
May 7th, 2014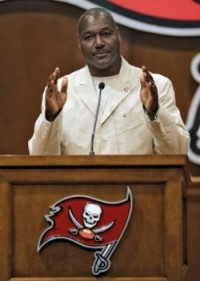 Yesterday, while speaking with the Tampa Bay pen and mic club, Derrick Brooks talked about life and football, particularly his Buccaneers moments after the team announced no other Bucs player will ever wear No. 55 again.
As most know, Brooks is a successful local businessman. That's why he will never coach, sans his son's youth team. He's making too much cash and is enjoying spending quality time with his family, as opposed to the 80-hour-work-week grind of the NFL or college ranks.
And, yes, he is also president of the Tampa Bay Storm.
Brooks, however, is not resting. When asked what the future holds for him, he responded, "There is still a lot to achieve in life." He didn't deny being an NFL owner could be one of those goals. In recent years, it has not been uncommon for NFL owners to sell a piece of their team to former players. John Stallworth became a part-owner of the Steelers. Former Bucs player (and former college and Bucs teammate of Brooks) Warrick Dunn is a minority owner of the Dixie Chicks.
Joe asked Brooks if he would be interested in following the ownership footsteps of Dunn. Joe got a quick reply.
"Oh yeah, why not?" Brooks said. "Absolutely."
Joe has no idea who Brooks could link to. But Brooks does rub elbows with deep-pocket types.
And no, Team Glazer is not selling the Bucs.