Malcolm's Hunt Of Bill Parcells
May 29th, 2014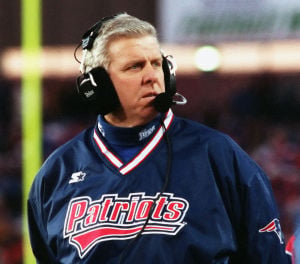 The late Malcolm Glazer made plenty of relentless power plays as the Buccaneers' owner.
Joe surely remembers all the drama of the sealed bids to purchase Tampa Bay from the Culverhouse estate.
Bucs fans didn't know who would swoop in and pay for football's most dreadful franchise. Joe remembers rooting for George Steinbrenner, who made it known he was hungry to lead the Bucs. Steinbrenner, Joe thought, would bring instant credibility, excitement and spending never before seen by local NFL fans.
But some guy named Glazer won the bid with a whopping $192 million offer.
Steinbrenner, one of the sports world's biggest movers and shakers had lost another local play. Joe remembers talking to Steinbrenner at Tampa Bay Downs about this years later, when Joe was the Tampa Tribune horse racing beat writer and Steinbrenner was a regular around the racetrack. (Old school locals also will remember that Steinbrenner sold his half of Tampa Bay Downs share in the 1980s, not one of his best financial decisions, either.)
Glazer, however, arrived and out-Steinbrennered Mr. Steinbrenner himself.
Glazer relentlessly attacked getting a new stadium built with public funds for the Bucs — or else. And Glazer hunted the biggest tuna in the sea with all the bait he could muster — head coach Bill Parcells.
The goal was simple: inject the franchise with the reigning supreme ruler of NFL sidelines and media magnet. Parcells was a free man and the Bucs wanted a new head coach. Jimmy Johnson got an official offer.
Tony Dungy was choice No. 3.
Mr. Glazer hunted Parcells again to replace Dungy before settling on Jon Gruden. And that brings Joe to one of the more fun memories of his reporting career, when the Tribune sports editor paid Joe to listen to the "Bill Parcells Show," which was carried by a now-defunct sports radio network. Joe's job was simply to listen for any clue Parcells might drop about the Buccaneers' interest.  Joe pulled in $200 to listen to about eight hours of sports radio.
Malcolm Glazer clearly believed in going big, chasing the prize harder than the other guy. Win-now Chucky was such a perfect fit for Mr. Glazer.
Joe wonders on this day, after the announcement of Glazer's death, what Mr. Glazer would have thought of the Raheem Morris hire? Joe also thinks Mr. Glazer would have loved the aggressive nature with which his sons pursued Chip Kelly before hiring Greg Schiano.