"With The 69th Pick In The NFL Draft …"
April 14th, 2014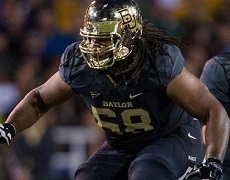 Reinforcements have to be coming to bolster the Bucs' offensive line. It has to happen.
The O-line, right now, is far too thin. Here's the breakdown, in case you forgot.
Thankfully the Bucs have time, and one full-time draft analyst believes Tampa Bay is likely seeking a gigantic target in the third round.Former Bucs beat writer Charlie Campbell, who shed his pewter colors for WalterFootball.com, likes the experience and size that Baylor beast Cyril Richardson could deliver at right guard.
Tampa Bay Buccaneers: Cyril Richardson, G, Baylor  
The Buccaneers grab a guard to replace Davin Joseph. 

Richardson was largely dominant in 2013. The senior was a tremendous run-blocker for Lache Seastrunk and opened a ton of holes at the point of attack. Richardson's pass protection was sound as well. 

Richardson did an overall good job of blocking for quarterback Robert Griffin III in 2011. Richardson also did well opening up holes in the ground game for Terrance Ganaway. Richardson started out at guard in 2010 before he moved to tackle as a sophomore. The junior was moved back to guard for 2012. 

The 6-foot-5, 335-pounder played better back on the inside. He was consistent in every phase of the game. Baylor experienced a lot of success running behind him, and he was also reliable in pass protection. Richardson could be most effective at guard in the NFL.
One thing that should help keep Richardson on the table for the Bucs in the third round was his lack of speed shown at the NFL Scouting Combine. He's not a freakish athlete, but you can't teach that kind of size and he certainly performed in college.
Interestingly, Richardson was featured on NFL.com as a guy who is not getting any consensus from NFL scouts, a guy who could go late in the first round or as late as the sixth round, and he has what some are calling a "high bust factor." (No, that's not a Hooters Calendar term.)
Joe won't sit here and pretend to know the intricacies of Richardson's game, but a high third-round pick (especially when you have no fourth-rounder) is a tough spot to gamble. But the draft is a giant gamble. Over at left guard, if healthy, the Bucs have the human armoire, Carl Nicks, who went from fifth-round pick of New Orleans to All-Pro in three years.