Mike Williams Traded
April 4th, 2014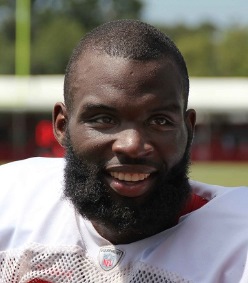 Various reports on the Interwebs are reporting Bucs wide receiver Mike Williams has been shifted off to Buffalo for the dreaded sixth round pick this morning.
The move reunites Williams with his old college coach, Bills head master Doug Marrone.
Williams was embroiled in off-field news that claimed he wasn't the best of neighbors. The Bucs had been tiring of learning of the Mickey Mouse nonsense and apparently getting stabbed by his brother was enough for the Bucs to want to wash their hands of him.
At the NFL owners meetings in Orlando last week, Bucs coach Lovie Smith adamantly said he wasn't going to cut Williams because he was a victim of a stabbing.
Lovie was true to his word. He just traded him instead.